Go! Critters ACQ55030

Go! Cutter dies Critters Make adorable fabric projects big and small with the GO! Critters die. This die perfectly cuts a dragonfly bee and butterfly for versatile baby cuteness! Apply fusible web to the wrong side of the fabric before cutting to ha


GO! Strip Cutter 1 1/2 ACQ55024

GO! strip cutter 1 1/2" fabric cutting die cuts five strips 10" x 24"


Kai 45 mm Pinking blade for rotary cutter

Kai Pinking Blade 45 mm to fit your rotary cutter.


Klutz Glove Large

Klutz GloveLarge green The cut-resistant glove that helps protect your non-cutting hand when using cutting tools. SS woven with cut-resistant fibres. left or right hand fit rubber dots for gripping machine washable.


olfa 45mm splash rotary cutter

Purple 45 mm olfa Splash precision cutter with quick change clade


Olfa Chenille Cutter CHN-1

Olfa Chenille Cutter Designed for both right- and left-handed use Features 4 channel guide sizes The UltraSharp black double-honed blade is never exposed for extra safety during cutting Cuts multiple layers of fabric as wel


The Grace Company True Cut 360 Rotary Blade Cartridge

True Cut 360 Blade Refill


Viva Infinite, 12.5cm thread snip

Viva Infinite 5" thread snips, Easier to use than standard scissors tempered stainless steel fully ground blades ergonomic comfortable soft grip handle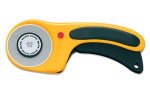 Olfa 60mm rotary cutter RTY-3/DX

Olfa ergonomic rotary cutter 60mm Easily and comfortably cuts multiple layers self retracting blades. Cuts cloth leather paper vinyl film wallpaper etc. Safety button locks blade closed. Designed to reduce hand and wrist fatigue.