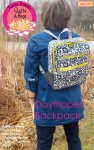 Among Brenda's Daytripper Backpack Hardware Kit

Among Brenda's Quilts and Bags Daytripper Backpack has an assortment of handy pockets for your devices, phone, pens, paper,etc. Loads of room inside for even your bulky items. 11" h X 10 1/2 " w . This size suits all ages.


Annie's Two wide-mouth sliders and two rectangle rings

Purse part by Annie's for Day tripper Bag.Two wide-mouth slider's and Two rectangle rings.


Buckle Slider
Clover bag strap CL6310

24" leather strap for hand bags flat black 2 per pack c/w satin bronze O-rings


Clover leather bag strap CL6313

leather bag strap flat 36" brown


Clover O-ring bag accessory

O-rings are functional yet stylish use a single O-ring as a strap connector choose two for decorative bag accents or team with a Swivel Latch (sold separately) for a functional closure.


Clover swivel ring CL6190

10mm swivel ring in antique gold. Works with D-ring and O-ring


Cotton Belting 1"

1" cotton belting in various colours. sold in meters


Price:
$ 2.15-$ 3.25

CAD

per metre




Domcord Belding Piping Filler cord cotton/polyester

Soft polyester(90%) cotton blend about 1/2" thick.


Price:
$ 1.29

CAD

per metre




Domcord Belding Piping Filler cord cotton/polyester C0001

Soft polyester (90%) and cotton blend


Price:
$ 1.19

CAD

per metre




Dritz Fashion Latch Closure 201

Decorative closure to secure opening on a purse tote garment and jewelry Nickel color Instructions: Use four holes along the corners of the closure and hand sew into desired position.


Kandi Corp Pre-glued Hot fix embellishments Crystal AB

Kandi Corp Hot-fix embellishments 100 pcs 4mm Crystalina crystals Hotfix Crystal AB crystals


Kandi Corp Pre-glued Hot fix embellishments Emerald

Kandi Corp Hot-fix embellishments 100 pcs 4mm Crystalina crystals Hotfix Emerald crystals


Kandi Corp Pre-glued Hot fix embellishments Sapphire

Kandi Corp Hot-fix embellishments 100 pcs 4mm Crystalina crystals Hotfix Sapphire crystals


Polypro Webbing black 1.5 inch
Prym Tuck Lock 417 980

his wonderful NEW 'Tuck' Faux Leather Bag Lock is perfect for fabric bags with pre- punched holes for stitching. Wonderful neat finish to your project closure. Perfect for use in any project design matches Bag Handles 'Clara'


Purse Parts, Nickel D-ring and swivel hook by Annies

1" Nickel includes: 1 D-ring, swivel hooks


Sihlouette Assorted Rhinestones

Silhouette 3mm 4mm assorted rhinestones with heat transfer backing approx. 540 pieces of the aqua mint teal and approx. 380 pieces of the clear rose and pink


Swivel Latch glossy 1 1/4" CL9548

Bag accessory 1 1/4" glossy nickel Nancy Zieman


Swivel Latch glossy CL9546CV

Glossy nickel swivel latch 1" for bags for a functional yet stylish closure team clover's swivel latch with D-rings (O-rings or rectangle rings sold separately)